Today, we're diving deep into the world of poker influencers who've conquered the social media scene. Poker, a game of wit and strategy, has found a new home on Instagram, and we're here to introduce you to the kings and queens of the digital felt.
In recent years, popular online casino games have started to grow a loyal following via social media, and the main reason is down to influencers. This is especially the case for Poker, a game that's long been celebrated in smoky backrooms and glittering casinos.
Now, it's taking over your Instagram feed! So, let's shuffle up and deal with the top 6 famous poker influencers who are making waves online.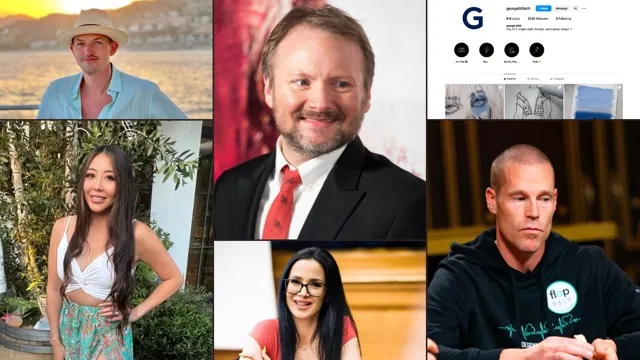 1. George (@george888eth) – The Crypto Poker Ace
With 231k followers in his corner, George is more than just a poker enthusiast. He's all about the art of NFTs and crypto investments. If you want a taste of the crypto-poker fusion, George is your go-to guy.
2. Rian Johnson (@riancjohnson) – The Hollywood Poker Star
California-based Rian Johnson might be best known for his work on hit movies such as Knives Out and its sequel Glass Onion, as well as a TV show starring Natasha Lyonne, Poker Face, but he's also got quite the poker face himself.
With 213k followers, Rian's Instagram game is strong. When he's not on set, he's grinding it out at the poker table.
3. Maria Ho (@maria_ho) – The Poker Pro Extraordinaire
Maria Ho, hailing from sunny California, boasts 129k followers. But don't let the numbers fool you; her engagement rate is solid. She's not just a pro poker player; she's also a TV host, Amazing Racer, and a knowledge seeker. Poker and pop culture collide in her posts.
4. Patrik Antonius Official (@patrik_antonius_official) – The Poker Pro Turned Animal Lover
Patrik Antonius may have once dominated the tennis court, but now he's conquering Instagram with 97k followers. And did we mention he's a co-founder of @firstlandofpoker? That's one poker room you don't want to miss.
5. Χριστίνα Ορφανιδου (@xristinaorfanidou_) – The Poker Streamer and Gamer
From Athens with love, Χριστίνα Orfanidou, aka Christina, brings gaming and poker to the forefront. With 87.7k followers and an impressive 12.38% engagement rate, she's capturing the hearts of gamers and poker players alike. It's a winning combination!
6. Joey Ingram (@papigto) – The Poker Content Creator Extraordinaire
With a staggering 62.9k followers and a jaw-dropping engagement rate of 57.85%, Joey is like the rockstar of the poker world on Instagram.
He's not just a poker content creator; he's a 3-time GPI Award Winner and an investor/advisor in the poker scene. It's safe to say that if there's one person who knows how to keep the poker passion alive on social media, it's him.
Final Thoughts
These 6 famous poker influencers are just the tip of the iceberg when it comes to the exciting world of poker on Instagram. They're not just about the cards; they're about the lifestyle, the culture, and the passion for the game.
So, if you're looking to up your poker game or simply enjoy some high-stakes content, these 6 famous poker influencers are your ace in the hole. Give them a follow and join the poker party on Instagram!