Patrick Mahomes has become a household name in the world of American football. His journey from a Texas high school to leading the Kansas City Chiefs in the NFL is a tale of talent, perseverance, and remarkable achievement.
This article delves into every aspect of Mahomes' life and career, from his early years to his groundbreaking achievements in the NFL, highlighting his unique skills and the impact he has made on the game of football.
Personal Info
| | |
| --- | --- |
| Full Name | Patrick Lavon Mahomes II |
| Known As | Patrick Mahomes |
| Net Worth | $40 Million (As of 2023) |
| Date of Birth | 17 September 1995 |
| Age | 28 years old (As of 2023) |
| Birth Place | Tyler, Texas, United States |
| Lives In | Tyler, Texas |
| Profession | Football Quarterback |
| Active Year | 2017 – Present |
| Nationality | American |
| Religion | Christian |
| Ethnicity | African-American Descent |
| Hometown | Tyler, Texas |
| Zodiac Sign | Virgo |
| School/High School | Whitehouse High School, Whitehouse, Texas |
| College/University | Texas Tech University |
| Education Qualification | Graduate |
Early Life and Introduction to Sports: Birth and First Influences
Patrick Mahomes II was born on September 17, 1995, in Tyler, Texas. Growing up in a sports-oriented family, Mahomes was introduced to athletics at an early age.
His father, Pat Mahomes, was a professional baseball pitcher, which naturally inclined young Patrick toward sports.
This early exposure played a crucial role in shaping his athletic abilities and his understanding of professional sports' demands and discipline.
Parents
Father:- Pat Mahomes
Mother:- Randi Martin

Siblings
•Jackson Mahomes

•Mia Randall

Wife
Brittany Mahomes

Kids
•Sterling Skye Mahomes (Daughter)

•Patrick Lavon Mahomes III (Son)

A Multi-Sport Athlete in High School: Excelling in Football and Baseball
During his high school years at Whitehouse High School in Texas, Mahomes demonstrated exceptional talent in both football and baseball.
As a quarterback, he showed early signs of the prowess that would later define his career. Simultaneously, his skills on the baseball diamond drew significant attention, showcasing his versatility as an athlete.
This period was crucial in honing the skills that would aid his future sports career.
College Career at Texas Tech: Record-Breaking Performances
Mahomes' time at Texas Tech University was marked by record-breaking performances.
As the starting quarterback for the Texas Tech Red Raiders, he quickly made a name for himself with his powerful arm and strategic playmaking.
His college career is peppered with impressive statistics and memorable games that signaled his potential for greatness at the professional level.
Entering the NFL: Drafted by the Kansas City Chiefs
The Kansas City Chiefs selected Patrick Mahomes in the first round of the 2017 NFL Draft, securing him as the 10th overall pick.
This marked the beginning of a new era for both Mahomes and the Chiefs.
Joining the NFL was a significant milestone in Mahomes' career, setting the stage for his future successes and the transformation he would bring to the Kansas City Chiefs.
A Special Quarterback: Unique Skills and Game-Changing Plays
What makes Patrick Mahomes a special quarterback is a combination of his powerful arm, strategic mind, and ability to perform under pressure.
His unique playing style, characterized by unconventional throws and creative playmaking, has redefined quarterback expectations in the NFL.
Mahomes' impact on the field is not just in the records he sets but also in how he elevates the entire team's performance.
Transforming the Kansas City Chiefs: Leading the Team to New Heights
Since joining the Chiefs, Patrick Mahomes has been instrumental in turning the team into a formidable force in the NFL.
His leadership and exceptional skill have been key factors in the team's transformation.
Under Mahomes' guidance, the Chiefs have become synonymous with a dynamic and high-scoring offense, making them a constant threat in the league.
Super Bowl LIV Triumph: A Remarkable Comeback
The Chiefs' rally past the 49ers in Super Bowl LIV is one of the most memorable moments in NFL history.
Patrick Mahomes led the team to three touchdowns in the final 6:13, overcoming a double-digit deficit.
This victory against the San Francisco 49ers with a score of 31-20 showcased Mahomes' resilience and ability to perform under immense pressure.
Super Bowl LVII Victory: Overcoming Adversity
In Super Bowl LVII, Mahomes, despite playing on an injured ankle, threw two touchdown passes in the fourth quarter.
His 26-yard scramble on the go-ahead drive was crucial in setting up Harrison Butker's 27-yard field goal with eight seconds left, which clinched the Chiefs' 38-35 victory over the Philadelphia Eagles.
This performance underlined Mahomes' determination and physical resilience.
A Captivating Personal History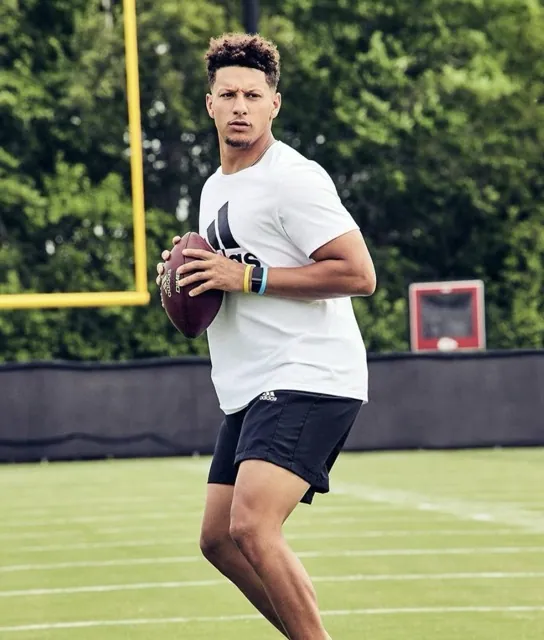 From his Texas raising to becoming a Kansas City Chiefs sensation, Mahomes' personal history is as captivating as his on-field prowess. Dive into the fascinating narrative, exploring not only his NFL exploits but also discovering the exciting world of Kansas sportsbooks.
Legacy and Impact: Redefining Quarterback Excellence
Patrick Mahomes' impact on football extends beyond his statistical achievements and championship victories.
He has redefined what it means to be an NFL quarterback, blending athletic prowess with strategic acumen.
His influence is seen in the way the quarterback position is played today and in how future generations will approach the game.
His legacy is not just in the records he sets, but in the inspiration he provides to aspiring athletes everywhere.
Patrick Mahomes has transcended the role of a typical NFL player, becoming a symbol of excellence and innovation in sports.
His journey from a multi-talented high school athlete to an NFL MVP encapsulates the essence of dedication and hard work.
He has not only elevated the Kansas City Chiefs to new heights but also inspired countless young fans and aspiring athletes with his dynamic style and charismatic leadership.
Off the field, his involvement in community projects and philanthropy adds another layer to his legacy, making him a role model in both professional and personal spheres.
Patrick Mahomes' story is a testament to the fact that with talent, determination, and the right mindset, boundaries in sports and life can be redefined, creating new standards for others to follow.
Read More: